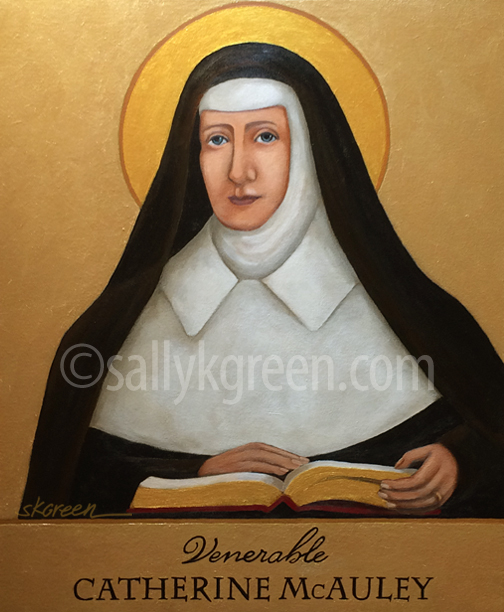 Venerable Catherine McAuley
Founder of the Sisters of Mercy
20 X 24
acrylic on canvas

Catherine McAuley: Born in 1778 in Dublin, Ireland. Catherine used her inheritance to establish a home for poor girls which inspired women around the world to commit their lives to the service to others. The Sisters of Mercy has been the driving force of many acts of mercy, including caring for the sick and dying, the poor and needy, the creation of schools, hospitals, low income housing, and more. Read her story
President Lincoln said of the Sisters of Mercy during the Civil War, "Veritable angels of mercy..."
Read more...
Venerable: On April 9, 1990, Pope John Paul declared Catherine McAuley "venerable", which is the first step in becoming a Saint.
Read more...
My inspiration: Catherine could have lived her life in luxury and yet she decided to provide for those less fortunate. Her selfless acts of mercy continue today, rippling out into this greedy world. As I painted, Catherine seemed to be looking at me (and you), the observer, across her desk and as she's about to open her Bible to Matthew 5:7 she says, "Oh my dear, let me show you where Jesus clearly speaks of Mercy."
---
Video about this important woman.
Feast Day: November 11
I Sing a Song of the Saints of God