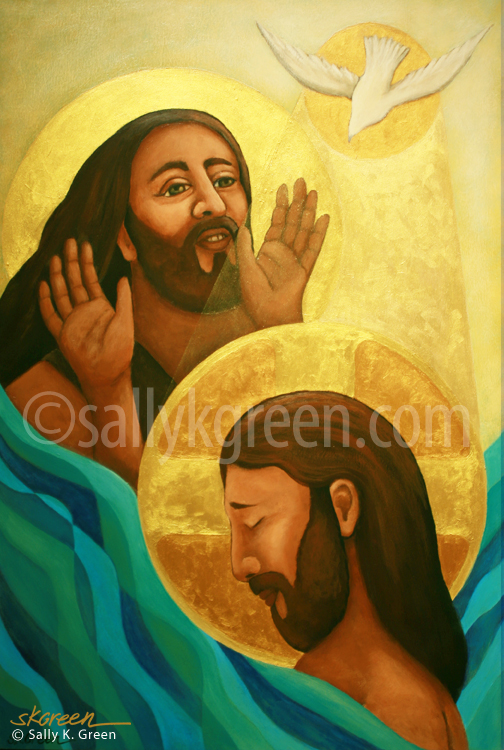 The Baptism of the Lord
20 X 30
acrylic on cradled birch panel

After the Lord was baptized, the heavens were opened, and the Spirit descended upon Him like a dove, and the voice of the Father thundered: This is my beloved Son, with whom I am well pleased.
Matthew 3:16-17
---
The Gospel tells us that John the Baptist was a preacher living in the desert, eating grasshoppers and wild honey. People came from all over Judea, confessing their sins and being baptized by John in the River Jordan. John told them of One who was coming --- One who was greater than him. John told them that he was baptizing them with water but the One coming would baptize them with the Holy Spirit and fire.
John got himself into trouble which eventually lead to his beheading when he blasted those in power who came to him to be baptized, "You generation of vipers!..." John knew of their sins and openly called them out on them.
Learn more
One day Jesus showed up to be baptized and John at first refused, saying that Jesus should baptize him. Jesus said, "Give in for now. We must do this if we are to fulfill God's demands." John gave in and baptized Jesus.
---
ABOUT the PAINTING: I've shown Jesus as described in the Gospel with the Holy Spirit descending upon Him like a dove. John is shown amazed upon hearing the voice of God and seeing the Holy Spirit descend.