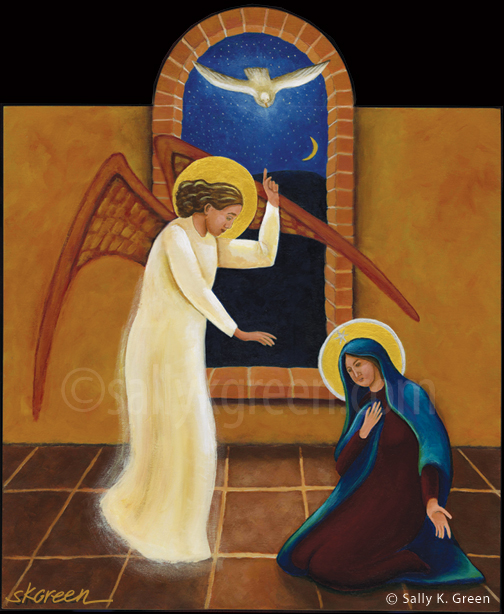 The Annunciation
20 X 24
acrylic on birch panel with a radiused top

The Archangel Gabriel was sent from God to a town of Galilee called Nazareth, to a virgin betrothed to a man named Joseph, of the house of David, and the virgin's name was Mary. And coming to her, he said, "Hail, Mary full of grace! The Lord is with you." But she was greatly troubled at what was said and pondered what sort of greeting this might be.

Then the angel said to her, "Do not be afraid, Mary, for you have found favor with God. Behold, you will conceive in your womb and bear a son, and you shall name him Jesus. He will be great and will be called Son of the Most High, and the Lord God will give him the throne of David his father, and he will rule over the house of Jacob forever, and of his Kingdom will have no end." -- The Gospel of Luke
The Feast Day of the Annunication is March 25th.
---
Painted on birch panel. The piece measures 20" wide X 24" tall which includes the radius on the top.
---
Listen to this beautiful hymn:

Immaculate Mary, your praises we sing; You reign now in splendor with Jesus our King. Ave, Ave, Ave, Maria. Ave, Ave, Maria.