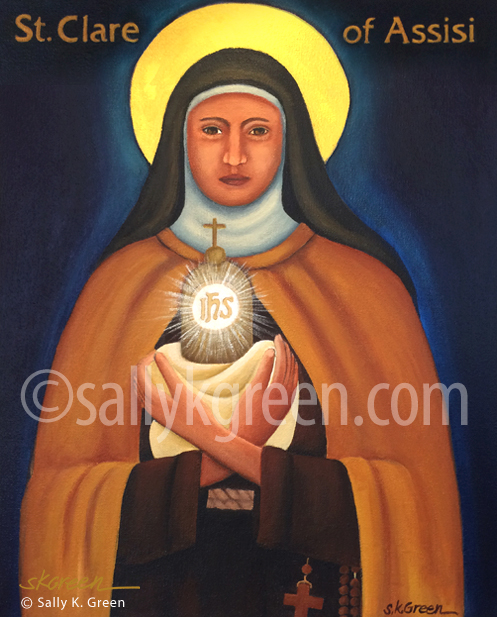 Clare was born in Assisi, Italy on July 16, 1194. The eldest child of a wealthy family. At the age of 12 her parents wanted her to marry a wealthy young man. Clare was always devoted to prayer and refused to marry, saying she wanted to wait until she was older. At 18, Clare heard Saint Francis preach and was so taken with him and his message that she ran away from home, giving up all her worldly possessions to be one of Francis' first followers. Under his guidance and protection, Clare founded a monastic order for women called the Poor Ladies. After her death in 1253, the order took the name, Poor Clares. Her feast day is August 11.
Saint Clare is often depicted holding a monstrance which contains the Most Blessed Sacrament. On two occasions while the city was about to be attacked by an invading army, Clare went to the city wall and while praying for God's help, she held up the monstrance with the Blessed Sacrament. Each time, the invaders turned back and Assisi was saved. This is how I see her, in the night with the montrance in hand with faith and courage on her face.
Because Saint Clare was such a close friend of Saint Francis, she was dear to the Franciscan missionaries who named many places in California. One was California's 8th mission, Santa Clara de Asis, founded in 1777. In 1769, near her feast day in early August, Fr. Crespi of the Portola expedition named the Santa Clara Valley in her honor. Others include the City of Santa Clara, the Santa Clarita River and many more.