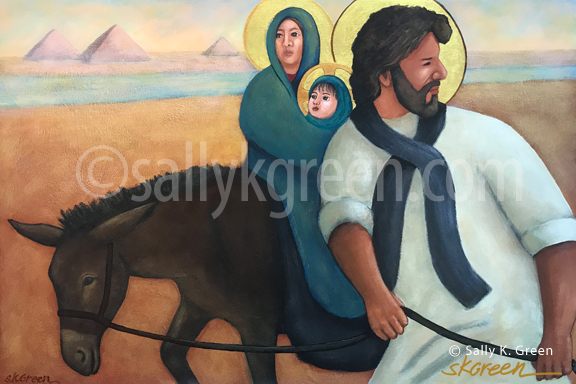 Refugees - The Holy Family
They walked over 200 miles to escape Herod's army.
Joseph is looking back to see if any soldiers are following them.
Mary is looking forward with some trepidation while
baby Jesus is feeling safe in His mother's arms.

20 X 30
acrylic on cradled birch panel

Refugees - The Holy Family

THE STORY: The magi (aka wise men or astrologers) had arrived in Jerusalem looking for the place where the newborn king was laid. King Herod asked them to return to him once they had located the baby so that he too might pay the child homage. Of course it was Herod's plan to have the new born king killed. After the magi located the child, an angel came to them and told them not to return to Herod. They went home taking a different route.
When Herod heard that he had been deceived he was furious and ordered all boys until the age of two be killed.
An angel came to Joseph in a dream and said, "Get up, take the child and His mother and flee to Egypt. Stay there until I tell you otherwise. Herod is searching for the child to destroy Him." Joseph got up immediately and took them to Egypt.
Learn more from Franciscan Media or read Matthew 2:1-23
---
HOLY INNOCENTS Feast Day:
Western Church, December 28th
Eastern Church, December 29th

We should consider the following reading from Exodus when thinking about how we treat those seeking shelter or a better life...
"You shall not oppress or afflict a resident alien, for you were once aliens residing in the land of Egypt. You shall not wrong any widow or orphan. If ever you wrong them and they cry out to me, I will surely listen to their cry. My wrath will flare up, and I will kill you with the sword; then your own wives will be widows, and your children orphans. If you lend money to my people, the poor among you, you must not be like a money lender; you must not demand interest from them. If you take your neighbor's cloak as a pledge, you shall return it to him before sunset; for this is his only covering; it is the cloak for his body. What will he sleep in? If he cries out to me, I will listen; for I am compassionate."
Exodus 22: 20-26

home | contact | about my work

Reproduction or use by permission only.