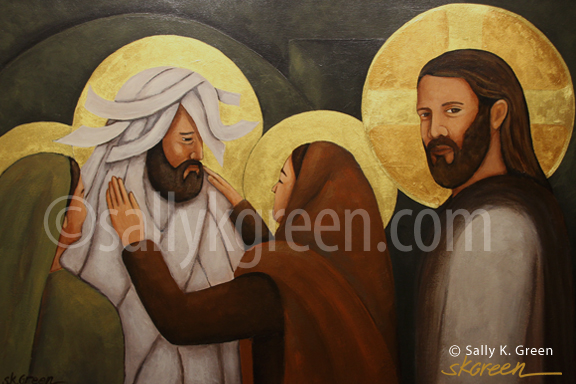 See --- the Glory of God
Raising Lazarus
Lazarus being greeted by his sisters, Mary and Martha,
with Jesus looking at us as if to say,
"Believe and you will see."

20 X 30
acrylic on birch panel

RAISING LAZARUS from the DEAD

With His final journey into Jerusalem before Him, Jesus first made His way to the town of Bethany where His friends Martha, Mary and Lazarus lived.
Lazarus was very ill. Jesus had gotten word that Martha and Mary were hoping that Jesus would get to them before their brother, Lazarus died so that Jesus might save him. When Jesus arrived, Martha went out to greet Him, crying with great sorrow she said, "Lord, if you had come sooner, Lazarus would still be alive."
Jesus felt great compassion for her and asked to be taken to where Lazarus was buried. Jesus asked that the tombstone be taken away. Martha said, "But, Lord, he has been dead four days, there will be a great odor". Then Jesus said, "Did I not tell you that if you believe, you would see the glory of God?"
The stone was taken away and in a loud voice, Jesus said, "Lazarus, come forth." The dead man rose up and walked out of the tomb.
---
FEAST DAY: March 27th
Lazarus shares his feast day with his sisters, Martha and Mary.